Celebrating the Old Ways in New Times for February 2022
(Photo by Wout Vanacker on Unsplash )
Bright Blessings!
The holidays are behind us and it's a new year. How time flies! For some that means you are still procrastinating about putting the Yule decorations away, doesn't it? And the kids have absolutely begged you to leave them up, haven't they? Have a mug of hot wassail and admire your work a bit longer why not?
While you are at it, think about all the good things you accomplished in 2021. If you can't think of anything? I can.
What about the time you made somebody's day because you let them go ahead of you in line at the grocery store? What if I told you they could have been having a very bad day and that one kindness you gave them made them feel better?
Did you offer to bring a co-worker lunch back when they had some extra work to do? What if I told you that since they were able to stay in the office and work instead of running out to get food, it helped them get out the door in time before rush hour traffic started, and they really appreciated it?
Did you smile at a stranger? What if I told you a smile to somebody who feels lonely can give them hope?
Did you donate a little money to an animal shelter? Even just a few dollars can help pay the water and electric bill and buy food for homeless pets who need you more than you will ever know.
It's not always the big things we do that are huge accomplishments, but sometimes the small things we don't even think matter that much are what makes all the difference in the world. So guess what? Your 2021 was very productive and you have earned a break.
What? You thought it was time for fulfilling New year's resolutions and not taking a break? What did you pledge? To get that project in the basement finally finished? Did you promise yourself you would learn French all over again last year, and didn't so you decided to do it this year? Are you feeling guilty for all those holiday cookies, and you want to get that last ten pounds off? Oh please. After winter holiday resolutions have become a big part of our culture, but I say, scrap them, and I'll tell you why.
Resolutions can have us overthink the things we wish we could have done differently, and some people take this time to work on self-improvement. As magical practitioners, we know transformation is the greatest magic there is, and that nobody can wave a magic wand over us, making us turn into whatever and whoever we wish we could be. Self-work is hard, arduous, and humbling. We tear ourselves down, and then slowly, painstakingly build ourselves back up stronger, and better than before.
Sometimes, during this process, we put ourselves down, and truthfully, it doesn't help. Positive change when we are abusing ourselves might come, but at what cost? If we hate our bodies and starve ourselves to be thin? We will gain the weight back and hate ourselves even more. If we allow people who we love to walk all over us, feeling guilty about saying no when we need to? We will be constantly depleted. If we refuse to acknowledge all the progress we have made, instead being angry with ourselves we have not progressed faster? Why even bother? We are just staying chronically unhappy, and isn't positive change supposed to make us proud?
So, for the rest of winter, and for as long as you can, do ONE thing magically.
GIVE YOURSELF A BREAK.
You read that right. You get a damn break. You don't have to make a list of all you have accomplished. You don't have to pat yourself on the back or reward yourself. You don't even have to admit how well you have been doing. And you sure don't have to come up with more that you expect yourself to do!
Just take a break.
I'm not saying to stop progressing. But if you are working on a book and want to sleep in a LITTLE bit instead of writing as much- sleep in for Pete's sake! It's not like you do that every single day. If you are dieting and want one treat- have a treat, it's not like you are going to eat everything at the whole Krispy Kreme all by yourself. Whatever you are working on, take some break from it, but most of all- tell the critic inside your head to shut up. For once you get a break from it all.
Push aside any initial guilt you feel for giving yourself a break. Why? Because this is part of self-work. If you constantly grind your fingers to the bone, pretty soon, you will burn out, and that's not the goal. Get over the American ideal of constant exhaustion without a break or rest. If you haven't already accepted that human beings are not built to work and progress until they die, then start accepting it. You are more than a worker drone and are not just a spoke in a machine that keeps society running. You are more than a human progress report!
Beyond that, the pursuit of perfection is an illusion. It doesn't exist- unless you are a kitten or puppy, good food, or a piece of art, that is. All joking aside, human beings are not perfect, and we are not meant to be, no matter how hard we try. I will share some wise sayings I have found about giving yourself a break.
" Give yourself a break, you're doing better than you think."
– Barrie Davenport
"Failure is a part of creating a great life. Stand up to it, and handle it with grace, because you can."
– Les Brown
"When one is at war with… themselves, it seems to never end. Perhaps it's time to call a truce. Perhaps it's time for…peace. It is the only way to win a war…with yourself."
– Joe Fazio
" You can't burn yourself out until there's nothing left of you to give."
– Molly Riordan
"Sometimes the most effective productivity habit is to step away and take a break."
-Brendon Burchard
"Even when somebody gets to looking like she should be so proud of herself, instead, she's like ' I could be another three pounds less; I could be a little taller and have bigger lips.' Where does it end? You just have to say 'It's pretty damned good. I am right here at the moment, and I am okay with it. I've got other things to think about.' "
– Melissa McCarthy
"Almost everything will work again if you unplug it for a few minutes, including you."
-Anne Lamott
"You can do anything, but not everything."
-David Allen
" A day spent giving your soul rest is never wasted."
-Nidhi Kush Shah
See how many other people learned the hard way it is necessary to stop, give themselves a break, and then start again? Don't take their word for it. Give yourself a break. Please do this for yourself starting this November if you have never done this before and make this a regular part of your magical practice!
Blessed Be!
**
About the Author: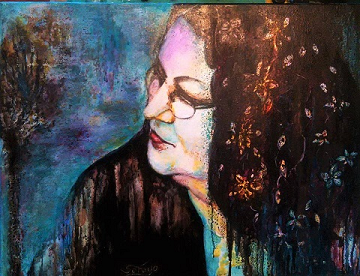 Saoirse is a practicing witch, and initiated Wiccan of an Eclectic Tradition.
A recovered Catholic, she was raised to believe in heaven and hell, that there is only one god, and only one way to believe. As she approached her late 20's, little things started to show her this was all wrong. She was most inspired by the saying "God is too big to fit into one religion" and after a heated exchange with the then associate pastor of the last Xtian church she attended, she finally realized she was in no way Xtian, and decided to move on to see where she could find her spiritual home.
Her homecoming to her Path was after many years of being called to The Old Ways and the Goddess, and happened in Phoenix, Arizona. She really did rise from her own ashes!
Upon returning to Ohio, she thought Chaos Magic was the answer, and soon discovered it was actually Wicca. She was blessed with a marvelous mentor, Lord Shadow, and started a Magical Discussion Group at local Metaphysical Shop Fly By Night. The group was later dubbed A Gathering of Paths. For a few years, this group met, discussed, did rituals, fellowship, and volunteering together, and even marched as a Pagan group with members of other groups at the local gay Pride Parade for eight years.
All the while, she continued studying with her mentor, and is still studying for Third Degree, making it to Second Degree thus far.
She is a gifted tarot reader, spellworker, teacher, and was even a resident Witch at a Westerville place dubbed The Parlor for a time.
Aside from her magical practice, she is a crocheter, beader, painter, and a good cook. She has been a clown and children's entertainer, a Nursing Home Activities Professional, a Cavern Tour Guide, a Retail Cashier, and a reader in local shops. Her college degree is a BA in English Writing. She tried her hand at both singing and playing bagpipes, and…well…let's just say her gifts lie elsewhere! She loves gardening, reading, antiques, time with friends and soul kin, and lots and lots of glorious color bedecking her small home!
On the encouragement of a loved one several years back, she searched for a publication to write for, and is right at home at PaganPagesOrg.
She is currently residing in Central Ohio with her husband, and furbabies.
Saoirse can be contacted at actpipe@yahoo.com.