Oracle Deck Review
The Wild Unknown Archetypes
Deck and Guidebook
Created and Illustrated by Kim Krans
Publisher: HarperOne
78 Cards Deck. 224 Page Guidebook
Publication Date: October 15, 2019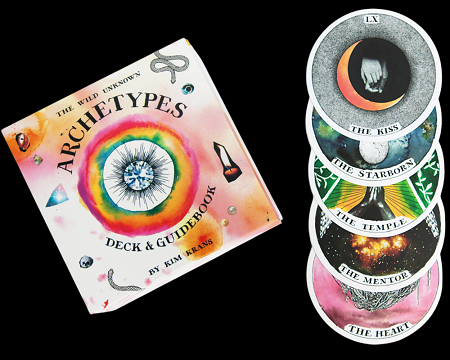 Kim Krans is already quite popular in the Pagan community as the Creator of the best selling Wild Unknown Tarot deck. If you're not familiar, The Wild Unknown has taken the world by storm. I love the art, though I have not worked with it personally, it never called out to me. She also has an animal spirit deck, which seems to accompany the Tarot deck very well. Neither of them called out to me. They're both very beautiful it's not anything to say against the other decks, it's just that this is the one that called out to me the most.
A fantastic visionary project, The Wild Unknown Archetypes Deck is a being all of its own. I don't know whether to call it an Oracle deck or a Tarot deck. It's simply neither of the two. While it is an oracle deck and that it is not a Tarot deck and it is a divinatory tool, the vibe is nothing like an oracle deck. It's as complicated as a Tarot deck and contains 78 cards as such. But it doesn't read like a Tarot deck The Archetypes Deck is just simply The Archetypes Deck.
It's one of a kind.
The deck is beautiful like the others in the series, but this one is totally different. Firstly it's round which is striking in and of itself. The cards are very sturdy they don't bend very badly at all. I personally like to use just a few cards in a spread with other regular tarot cards as just one archetype card contains such power. You'll find that one card from the archives deck contains as much information as an entire Tarot Spread. The beauty of the deck is also present in the book as well. A beautiful altar piece. And a labor of love. She reached deep into the nethersphere to retrieve these archetypes, and meditated deeply on them to bring them to life. These cards not only offer wisdom, they offer medicine.
The book offers Rich context as different ways to use the deck which she describes as pretty open. Krans describes intimately how she came up with the idea for this deck. And each card description is vibrantly detailed.
The Creator — the first archetype in the trio of existence — is not intimidated by darkness or by lack. They know that from the void, creation inevitably emerges. With meager, minimal, and outlandish materials The Creator reveals the new image. They make The Empty Room resonate with healing sounds; they generate bounty from the seed the others tossed away. The generative, this archetype annihilates preconceived notions of what is possible, leaving unexpected openings in the wake of its destruction. The Creator does this by, first, being absolutely present to what is (not imagining or wishing things were different) and, second, trusting that a force greater than themselves awaits constant collaboration with each human soul. Whether we call it nature, god, goddess, Shakti, or divinity, it remains nameless… it is the creators lifelong companion.
Each page contains even more. And because it's not a Tarot deck it's simply an adventure to learn every new card. It's an Oracle deck that you want to know as intimately as a Tarot deck. I've had it for about a year, and I still have to consult the book for many many definitions. It is such a detailed and beautiful deck. Kim Krans it's not only an amazing artist, but an amazingly talented writer. Her definitions of the cards aren't lacking in any way. This is a personal favorite of mine, and I give it a 5/5. It's good for a beginner, it is something new, and maybe less intimidating than a real Tarot deck. And it's amazing for the adept, as it gives them something new to master.
Kim Krans is a visionary artist and the creator of the aforementioned bestselling Tarot deck The Wind Unknown. Krans received her BFA in drawing at Cooper Union, an MFA in mixed media at Hunter College, and an MA in depth psychology and creativity at Pacifica Graduate Institute in California. She teaches many to understand themselves through all right meditation and mysticism. She is published three decks and guide books, a memoir, and interactive journal, and five children books. You can check her out at www.kimkrans.com for more information!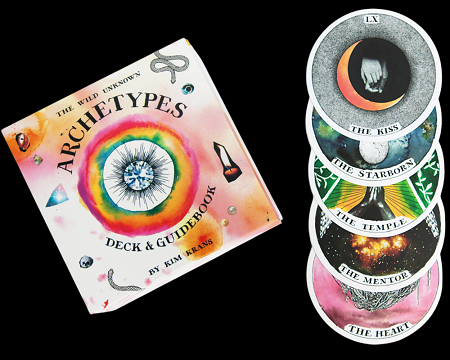 The Wild Unknown Archetypes Deck and Guidebook on Amazon
**
About the Author:
Alexiel Raynes is a shaman, philosopher, and musician from Louisville, Ky. He has studied religion and science for over 20 years. His spiritual path focuses on self realization, the liberation of the constraints of the mind on consciousness. He also studies plant medicines and their use in indigenous cultures world wide. He is fascinated with exploring the world beyond the veil of mainstream western science, and postulates at what lies beyond general consensus reality. He, together with his business partner Hallie Walker are the owners of Saol Bandia, a holistic herbal apothecary based in their hometown. They are also very active in raising pagan awareness in their community, and helping give witches the courage to stand up to a world that has forgotten our ways.
You can visit their store at Saolbandia.com
For contact visit Facebook.com/AlexielRaynes2020
Or email alexielphoenix27@gmail.com